Update to 0.8 - 14.5k assets total
---
I realized I never posted any release notes. So, this devlog gets three sections:
The updates that just dropped.
My plans for next steps
Full release notes.
Let's dive in!
0.8 Update
The update has a Breaking Change
I changed the name of the top level directory in the Zip file. I won't do it again.
The top level directory is now named Dungeonwave Hex Assets. Under that, you'll find Dungeonwave Tiles. The tiles folder is the one you should import for use in Hex Kit. In the future, there will be a sprite sheet directory for ease of use in Tiled, as well, I just haven't had a chance to test it yet.
The update has many new labels
Version 0.8 has (checks math) more than 8,000 new tiles.
The vast majority of new tiles are labels - letters, numbers, and symbols that sit in one of 17 different positions on the hex. (These match up with the outlines provided, so you can mark locations with letters or numbers on a map or gameboard.) The labels now come in 10 different colors, times 17 positions, times 48 characters, is why there are so many new tiles in this pack.
There's also more colors for the pattern tiles and more characters in the alphabet
The update has scan lines!
But the fun new tiles are the first special effects tiles! Glitchy scan line tiles were some of the ones I could see in my head when I started this project, and I'm glad to get them done.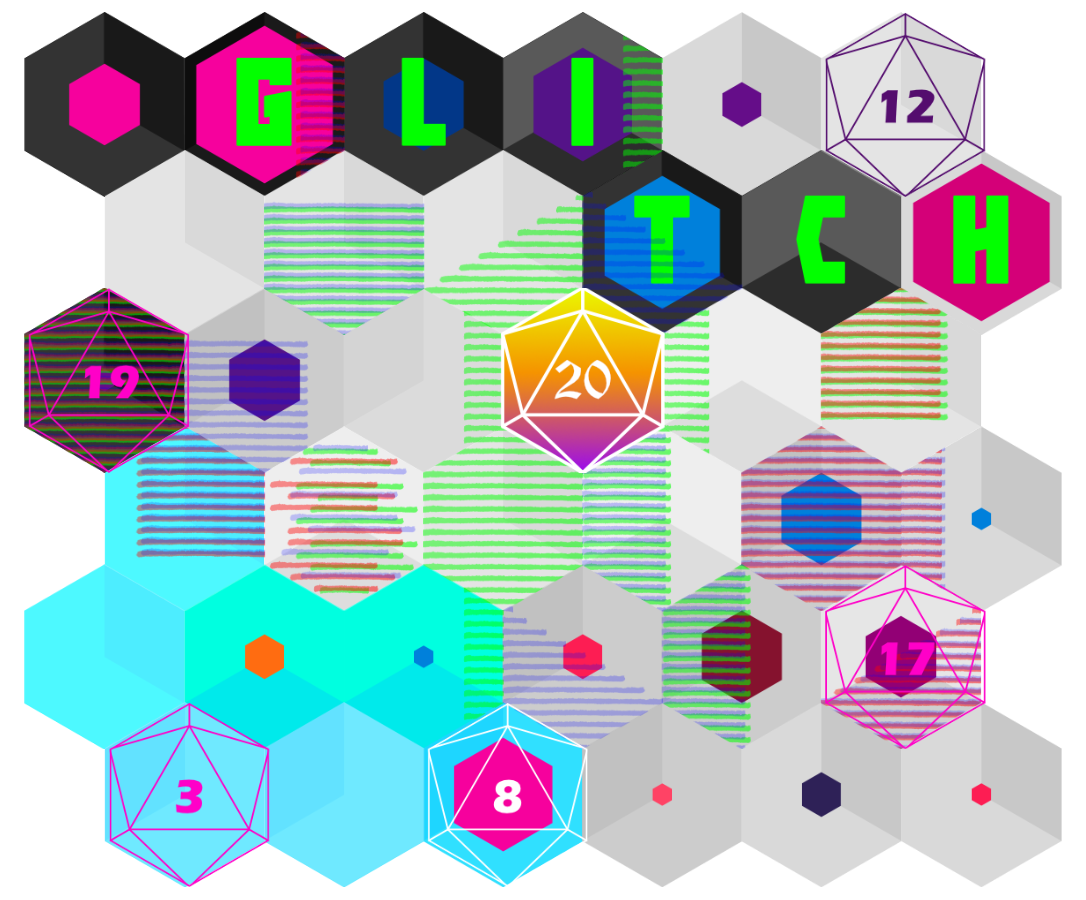 I'm excited about the glitch tiles, and working on more effects!
Plans
Release notes to date

Rev 0.8, 27-Jun-2020
Early Access update. 14,500+ total assets
BREAKING CHANGE: 
* Top level folder renamed "Dungeonwave Hex Assets".
* For Hex Kit use, import the "Dungeonwave Tiles" folder.
I won't change those folders again, I promise.
* (new) Effects folder added with scanline glitch tiles, 12 patterns  in 7 color variations.
* (updated) Three more locations added to label set to allow rotated 
  use of triple circle/hex frames. (Two o'clock, six o'clock, 10 o'clock 
  positions.)
* (updated) Added period, tilde, ellipsis, slash to label set
* (new) Nine new colors for labels (white, magenta, lipstick, hunter, 
  blue, gray70, orange, yellow, green)
* (new) Tileable patterns now come in those same 10 colors.
----------------------------------------------------
Rev 0.7.1, 19-Jun-2020
Early Access update. 6,396+ total assets
* Updated the License, README, and Changelog formats.
* (updated) 2 more tileable graphic elements, total now 73
* (added) 73 tileable elements in white (now all in black, white)
* (new) 12 hex edge borders in two colors (black, white)
* (added) four more glyphs in the alphabet (period, tilde, ellipsis, slash)
* (updated) one more color alphabet (hunter green) for a total of 11
* (added) two more sizes for each gradient series
* (added) Aesthetic Ice-cream palette (14 colors) added to gradients
* (added) Go Outside palette (28 colors) added to gradients
* (added) Color Wheel palette (8 colors) added to gradients
----------------------------------------------------
Rev 0.7, 18-Jun-2020
Early Access release. 5,600+ assets.
* Line set in five weights (hairline, thin, medium, thick, chonk), three
styles (solid, dashed, dotted), and two colors (black, white)
* 71 tileable graphic elements in black
* Alphabet characters in 10 colors
* Label frame groups, 10 styles in five line weights, black outline,
two fills (transparent, white)
* 100 color hexes
* six hex size gradients tiles in 50 colors
* 20 d20 icons in five colors
* 1 shaded d20 icon
* 1 Deus Ex Minima logo :)
Files
Dungeonwave Hex Assets 0.8.zip
32 MB
95 days ago
Get Dungeonwave Hex Assets (v0.8 Early Access)