1-6 Skeletons in a Stable
A downloadable micro-module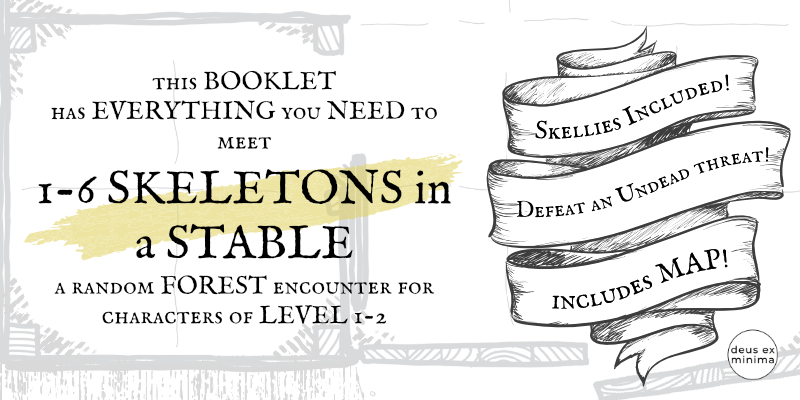 So many questions!
Why are there so many skeletons in this stable?
What secret does the town chandler hide?
Who is asking all these questions?
I dunno, you're the Dungeon Master, you're gonna have to make some stuff up. But this micro-module gives you the setup you need to find the answers!

Print & play 5th edition micro-module with almost no prep at all!
Experienced DM? Great for a one-shot evening when some of your players couldn't make it, or to help make a smooth transition between your big set piece adventures!
New DM? This micro-module gives you support in running a fight with some skeletons without making you run off to the reference books, a little help making up NPC names, and some ideas for future encounters in the area, if that's useful to you. Hey, I'm just trying to help.
Any DM! If you've got some 1st level characters in a forest and need a place to go next, this download will take care of you! 1-6 Skeletons in a Stable is a full-featured micro-module for out in the woods - 8 little zine pages of setup, NPCs, story hooks, maps, loot, and an easy combat tracker.
This little booklet brings the game to the table with everything a big module has, and more!
Setup hooks to bring the characters in.
Some local NPCs (and a list of names to choose from if you hate making up names on the spot)
Two stat blocks - skeletons and skeleton warhorses - you don't have to look up a thing!
a print-n-play battle map you can just have the fight right on.
Initiative tracker and HP checkboxes for the skeletons so you don't need separate scratch paper
Skeleton tactics are not subtle, let's give them some motivation!
What happens after the encounter? Loot, experience, 1d6 random rewards!
An area map and vaguely worded regional lore!
Designed for Print
The PDF makes an 8-page mini-zine. Two sheets of paper - print both sides, fold, optional staple, and you are in the game! Keep this in your toolbox and bring it out any time you need a fight in a stable!
Art Asset Shoutout
Map tiles for the full color micro-module designed by Steven Colling and available here on Itch.io.
Fifth Edition Compatible
This game supplement is published under the terms of the Wizards of the Coast Open Game License version 1.0a.
Download
Click download now to get access to the following files:
dem-002 old stable print n play map.pdf
765 kB
dem-002 skeletons in a stable bw v1.1.pdf
2 MB
dem-002 skeletons in a stable color v1.1.pdf
2 MB